If you enjoy an all-natural tobacco smoke, hand-rolled just the way you prefer, then you've no doubt heard about Grabba Leaf, which is simply a whole leaf tobacco smoking product with a different name, but is the same as both Fanta or Fronto leaf. So, it doesn't matter if you call it Grabba or Fronto leaf, you still get that dark, rich smoke flavor that has been a favorite of tobacco lovers in the Caribbean and Jamaica. While smoking Grabba Leaf may be a novel idea to some, it has actually been around for many years before the commercialization of tobacco crops and the wholesale distribution of pre-rolled tobacco products. Read on to find out exactly, "What is Grabba leaf?"
How is Grabba Leaf Used?
One problem with packaged tobacco products is that the smoker really doesn't know which variety of leaves are harvested or what other chemicals have gone into the process of drying/curing and converting this natural leaf into a commercial product. With Grabba Leaf and other similar products, you get the whole leaf plant which is air or fire cured, then aged to perfection. Some tobacco leaves are harvested and cured specifically for smoking, while others that tend to have a thicker, meatier texture are usually used as rolling or wrapper leaves, or sometimes they are crushed for the purpose of creating a custom blend with other choice tobacco products.
Don't discount Grabba as a smokeable filler variety even though this variety is considered a wrapper grade tobacco leaf. Some prefer the dark richness of Grabba, and it is becoming a popular choice for increasing the volume and boldness of more subtle smoking leaves. So, you can use Grabba leaf as a wrapper or crushed and mixed with another variety where you will hardly notice the difference.
For those that chew, then Grabba Leaf is an excellent choice, because you get more for your money as Grabba Leaf is usually priced lower because of imperfections in the leaf. This dark, whole leaf variety when pulverized or ground for chewing will have a lasting flavor and a medium coarse texture, making it perfect for those that prefer to chew.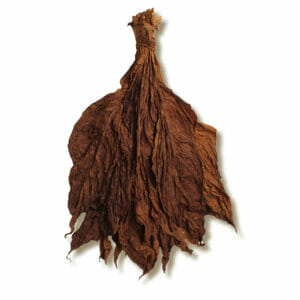 What Types of Grabba Leaf are There for Smokers?
As with most tobacco varieties, Grabba Leaf is available in different strengths and tastes. A dark fire cured Grabba leaf will have a rubbery, thick texture and a powerful, smoky flavor that is the result of being fire cured. It is a popular chewing tobacco for those that prefer a flavor that penetrates the senses. The dark air cured varieties tend to be lighter in intensity, but still strong enough to be used as a binder for cigars.
You will find the light fire cured and air cured Grabba leaves are much more mellow in flavor. Light Grabba leaves will often be crushed and blended with other varieties to create a custom flavor suited specifically to the smoker's tastes.
You will also find both light and dark Grabba Leaf that has been aged to perfection. When you buy aged Grabba Leaf, you are getting a better quality tobacco that has a more balanced flavor, making it a great choice as a smokeless tobacco. Aged tobacco leaves tend to burn better, are less sharp, and feature a full-bodied flavor. But really it all comes down to what the smoker or chewer prefers. Many are using Grabba Leaf not just as a roller leaf, but as a way to stretch tobacco and add a robustness that may be missing.
When you need a quality supply of Grabba Leaf at wholesale prices, visit our selection of tobacco leaves for sale for a wide variety of tobacco choices for wrapping, smoking, or chewing.